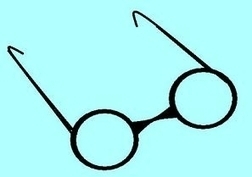 my·o·pi·a  /mīˈōpēə/
Nearsightedness
Lack of imagination, foresight, or intellectual insight.
Last week I was in Cannes and noticed a stark contrast between those who were immerse in the broader marketing picture, and those that were looking through a digital pinhole at the event and trying to bring digital to the forefront. I call this latter group the Digital Myopics. Do you or someone you work with suffer from Digital Myopia? That undying belief that digital is the only future that matters, and all other vehicles for marketing, content, or communication are backwards and antiquated? As a 20 year veteran of digital marketing and media (my first marketing project was in 1994 after the advent of the first Mozilla browser), I am a big believer that digital has opened up the marketing world to possibilities never considered in a linear TV or print environment. So I too at times have suffered the symptoms of Digital Myopia. You can spot the digital myopic because they:
Believe that everything is measurable and that targeting discrete individuals is the best way to market. The digital myopic is hooked on Big Data to create micro-segments, and believes every marketing problem can be solved by algorithm. Belief in the power of digital is based on this tenet. But talk to a CMO of a major brand, and they'll tell you that TV and print still drives sales and brand lift through creative expression that digital myopics don't see, and targeting the 33 in-market truck buyers in zip code 55408 is a very challenging that doesn't pay off productively.  Plus 90% of all products are still sold through physical stores, which means in-store display, end caps and shelf space still count.
Can be myopic even within their digital silo. Social media wonks believe everyone wants to "have a relationship with the brand." Online video mavens believe that display is dead. Display advocates think search is a lower-funnel follow-on to the great banner campaign they are running. And of course, mobile is the new black so everyone wants to build an app. But many of these folks start with mastering the end game, not thinking about the consumer's perspective.
Assume that people seek out content on predefined, very narrowly defined interests. The digital world is truly interconnected, interlocked, and interpersonal. It allows disparate items – ads, articles, and social experiments – to converge on one page as if they were magic. Yet the Super Bowl and sporting events remain powerful "tent pole" events with high production value, and shows like "The Voice" are able to attract a live audience for some period of time. People still like the passive entertainment experience, which gives broadcast and cable networks (and Netflix NFLX +1.36%, Amazon and Hulu) new oxygen to breathe as people binge on linear programming.
Have limited interest in the core principles of marketing.  Digital myopics are not brand experts. Brands don't love static banners and simple text ads. Digital myopics see the world as brand advertising or direct response. But in reality these approaches need to live complementary lives that support each other to master the overall marketing mix in order to fully engage the consumer in today's fragmented media universe.
Work for a digital media vendor, either in marketing, sales, or executive management. Let's face it, to succeed in the digital world over the past 15 years required intense, intelligent evangelism in order to move budgets. These firms have driven the massive growth of this market (Forrester forecasts digital marketing spend to reach $76 billion in the US in 2017, equivalent to the size of the TV business in 2012). This unique case of digital myopia creates a confusing array of digital competitors, few of whom can actually deliver the results a CMO needs to succeed, and in some cases make the symptoms contagious.
Unlike most Pharma ads, I will not go through a litany of side effects that result from trying to cure you or members of your team from this disease. But the disease is real, and it is an evangelical virus that permeates the minds and the strategy of marketing technology vendors, digital media sellers, online shopping startups, and assumptive heirs-apparent to the CMO spot.
Continue reading on www.forbes.com